Ecole Française de Bâle daycare
"La petite Bulle" daycare welcomes children from 3 to 24 months old. The small capacity of the daycare (maximum 10 children) allows the team to be available and attentive to everyone. Children can be accommodated from 1 to 5 days a week. Frequency is decided at the registration and can be modified according to availability.
Caring for the child takes one full day.
A period of adaptation to group life is organized at the registration of the child. This period is accompanied by the parents, in several stages over a minimum of one week.
Our Mission:
To offer a personalized framework to each child while respecting his/her rhythm and development.
Language learning
Express yourself with your body
Perceive, imagine, create
Discover the pedagogical project of the "Petite Bulle" daycare
Schedules
Monday to Friday from 7:30am to 6:30pm. Reception between 7:30am and 9am
Calendar
The daycare is open year-round. Closed: 3 weeks in summer, 1 week at Easter and Christmas
Annual fees
From 6.000 CHF / year meal included
Meals
Meals are included in the day at the daycare.
Meal lactic and snacks to be provided
Last post for the daycare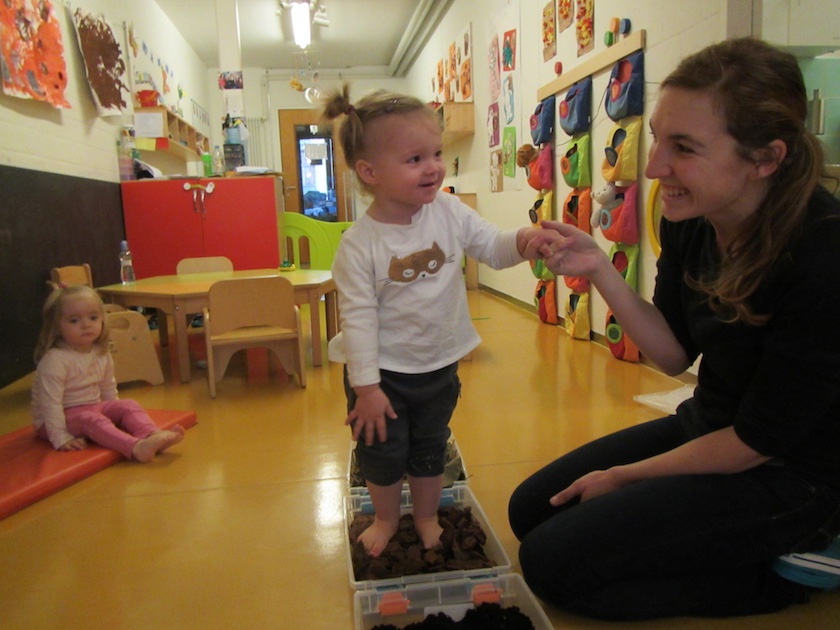 Cette année, nous avons souhaité mettre les couleurs à l'honneur au sein de notre crèche. Et quelle plus belle manière de s'intéresser aux couleurs qu'au travers de nos saisons ! Du 11 septembre au 1er décembre, nous avons découvert le jaune, le orange, le rouge et le...
read more

Privileged space
Located on the quiet and secure site of the Gundeldinger Feld.
Progressive integration in preschool due to proximity to the premises.
A team of 2 early childhood educators and 2 youth workers.
The daycare is endowed with a changing room, a kitchen, a quiet and sieved siesta room and a private playground.

Educational workshops
Suitable for children according to their age and stage of development
Aim for pleasure and discovery
Outings and outdoor games
Awakening of all the senses (music, barefoot trail, cooking workshops,…)
Body and motor awareness
Initiation to German through various activities (nursery rhymes, stories, games, etc.)

French daycare
Created at Ecole Française de Bâle with a team of French-speaking instructors.
Personalized rhythm for each child
Meals fresh and adapted to the child's needs
Availability of supervision: listening, close communication with parents
Would you like more information or would you like to register?
What are the registration procedures ?
What is the school calendar of Ecole Française de Bâle ?
How much is the school fees ? And what financial assistance is available ?